You have challenges.
We have solutions.
Your challenges
Your brand should be coherent and transparent in all communication channels – by working with us, you gain a partner for comprehensive production and service for all your needs related to visual identification systems and sales support.
You also save time and energy – instead of coordinating many partners, you can focus on what is really important, which is your brand's strategy and achieving your goals.
Our experienced team and extensive machinery park allow us to create materials for advertising and marketing campaigns (both internal and external) of various scales in no time.
You can count on professional consulting services in the fields of selection of materials, technology, forms, designs and logistics.
act on a grand scale
always be visible and reach your clients
draw attention and improve sales
build positive associations
gain new contacts and new clients
promote your products and services
build brand recognition
make a first impression and develop your business
stand out from the competition
shock with new ideas
outsource production
overcome boundaries and change standards
We are here to help with:
creation, design and prototyping solutionsin the field of visual identification
service of seasonal and product campaignsbased of network solutions
comprehensive interior design(individual shops and chains)
printing of any form (outdoor and indoor),on various materials (cardboard, paper, material, metal, wood, fabric, foil, composite, etc.)
designing nonstandard solutions which improve consumers' interestor suit your sales and communication needs
managing the whole process – from design, to production, bulk breaking, distribution, logisticsand supervision
refining implemented solutions
production of any POS materials which support your sales or communication
comprehensive arrangement of exhibitions, trade fairs and showcases
production of home decorations – paintings, wallpapers, wall panels, etc.
rebranding of retail and shop chains
creating scenography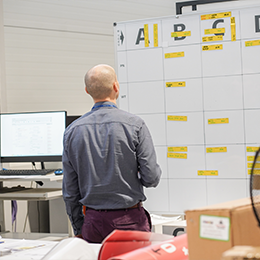 Nonstandard solutions are the standard for us The impossible is always possible.
Regardless of challenges you face, you can always count on us.
Send a request